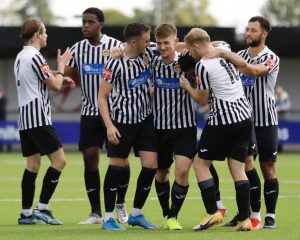 First Call Contract Services are proud to be a main club sponsor for Heybridge Swifts F.C again this season.
Our partnership has strengthened over the past 5 years, during which time the club has made significant strides, both on and off the pitch.
A memorable F.A. Cup run to the 1st round proper, and the installation of an all-weather main pitch have been recent highlights.
The all-weather facility has helped ensure that the club has been able to fully focus and develop its policy of creating opportunities for Youth participation. This initiative is passionately supported by First Call Contract Services.
David Mankelow CEO says:
It's our absolute pleasure to support this wonderful community-based Football Club in as many ways as we can. It has been a joy to see so many youngsters have the chance to use the facilities, and to see how much the club has developed throughout the course of our partnership. We remain committed in supporting the Club, and local community on their current and forth coming initiatives.