David Sutcliffe- Leicester Branch Manager- Congratulations on 10 years' service!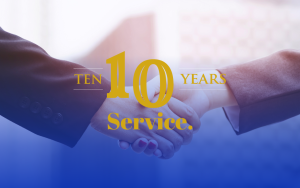 First Call Contract Services pass on their warmest congratulations to David Sutcliffe on his completion of 10 years' service with the business.
From launching the office in 2012, to overseeing a large operation working in partnership with some of the UK's most recognised brands, David has been a mainstay in Leicester for an entire decade.
The local labour market is one of the most competitive in the entire country, however David's consistent presence has provided expert guidance to both internal teams and clients alike. This has proved to be crucial in the last 3 years, as both labour users and providers have had to overcome additional challenges unique to the region.
Paying tribute to Sutcliffe's 10 years, Ian Bayley Operations Director:
"David has played a huge role in the success of the Leicester branch, right through from an office launch through to the present. David has done a fantastic job in leading and nurturing his team over many years, enabling us to deliver  on key contracts.
In more recent times, his knowledge and expertise has provided valuable insight and solutions to local market challenges.
I congratulate him on reaching this milestone, and look forward to many more years working together"